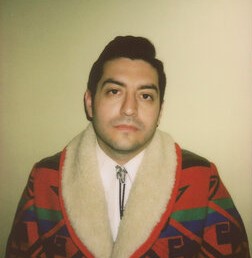 "M-10" By David Joez Villaverde
For Lizzie
In the fifties, a Vulcan bomber fell from the sky and crashed somewhere in the east side. I think about that sometimes when we take the Lodge and you're tired of your murder podcasts and I am too exhausted to put anything else on. I think about how your grandfather once owned part of the Fisher Building. How the speed limit is only fifty-five till you get to Southfield. How you got pulled over once for speeding but got off with a warning. I think of anything to keep my mind off your father. Off cancer. Off dying. Hospice.
"Two Rivers" by Carmen Malis King
Freighter horns echo through my bedroom walls late at night; their whale songs paint a silken, smoky trail up Junction Avenue, reassuring me I'm in the company of other nocturnal dwellers. I am lulled to sleep by the blanket of dark waves the freighters course through in the night. I hear the River, but I only see the water when my family packs into our car to admire it from bridges, crossing over to Windsor or for a drive around Belle Isle.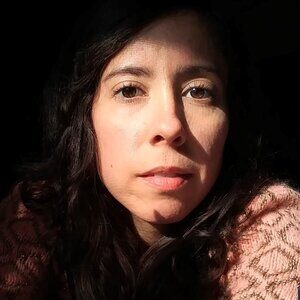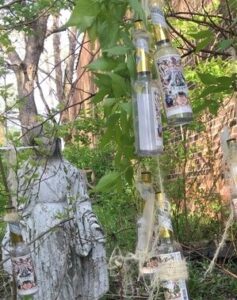 "The Haunting of the Cabacier Estate" by Cherise Morris
The third winter without heat broke me.
She was a big-body build, a real hard-knocks-sorta-bitch. The guy who lived here before left his everything. An occultist myself, I found it fitting the last tenant was a tarot-reading-astrologer-pagan. His remnants in still lifes: a drawer of socks, dream catchers collecting dust and dead skin cells, half-used bars of soap in the shower next to a little bag of hair. He left running.
The family before him, the landlords, were the dysfunctional Catholic archetypes.
"The Medicine Cabinet" by Amanda Itria
The medicine cabinet in the first-floor bathroom hadn't been touched for thirty years. Recessed into the wall, it remained hidden. Then, one cold, quiet day, I was scraping wallpaper from the aged walls and discovered the mirror was a door. So, I opened it.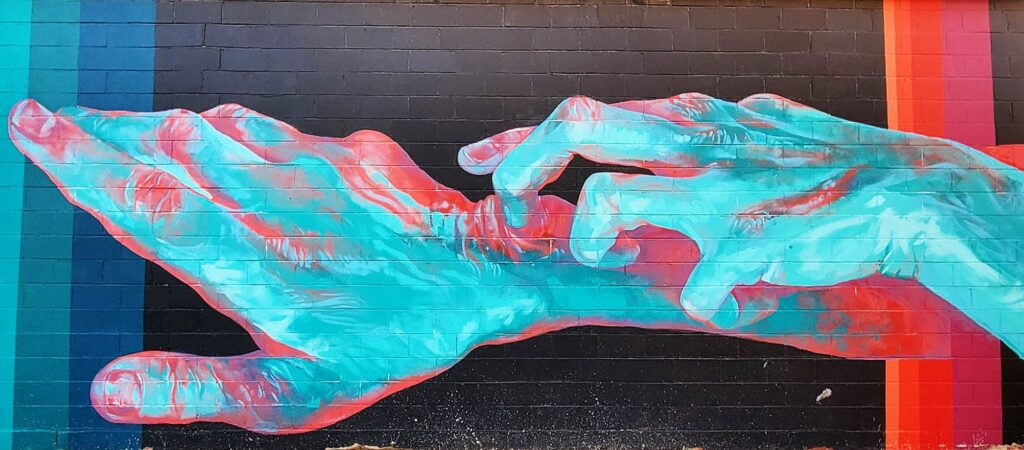 "Detroit as The Beauty Supply" by Nia Shumake
When I was a preteen I would ride down 7 mile on my way to school and count every church, coney island, liquor store and beauty supply. Being a pastor's kid in the city obviously my first encounter with salvation was in the church. But the second time I got saved was at a storefront beauty supply on Harper and Cadieux.
Untitled by Mallory Goldman
2799 W Grand Blvd Detroit, MI 48202, 6th floor waiting room, "No visitors allowed." The roof over my head wasn't my home, but I had clocked enough hours that week that I had forgotten what color sheets painted my bed, let alone what they felt like on my skin. I stood there in the floor to ceiling windows, pressing my forehead to the glass, leaning heavily into the picturesque skyline of a city so loved, and fading. We were living in a nightmare of unwordedness. From ventilators down our throats to knees on necks, Detroit was suffocating. And there I barely stood, begging the city to just slow down and breathe with me, "please, just breathe."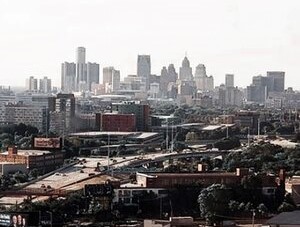 Untitled by Rachel Harkai
Just west of downtown Detroit, along the river, a ziggurat rises. Poured of cement, its rings rise concentrically toward a slender peak where even the rarefied air still reeks of sulfur from factories forging steel downriver. In place of stars, the porchlights of Windsor's bungalows twinkle beside the reds and blues of towering casinos reflected in the river's glass below.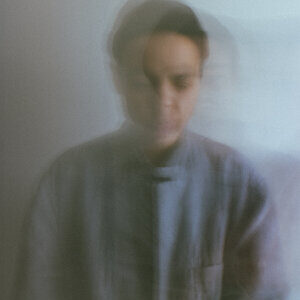 "Good Night Al Kaline" by Jim Novak
John and Jackie moved in to the White House
There was twisting and Elvis, and Patsy Cline
Ball cards were a penny and I bought hundreds
And none more precious than the Tigers' Kaline.
Listening to the Tigers while mom did dishes
Great seats in our kitchen with Harwell and Kell
Bedtime in pajamas with my little transistor
Til mom said goodnight, the way I knew so well:
Untitled by Kathryn Nowinski
One morning last fall, I took my dog Bishop for a walk, he almost snagged an orange cat off the sidewalk, it was too fast for him. We walked down Seminole — 2020 campaign signs mixed with "We <3 Indian Village" signs, there's contention about renaming the neighborhood.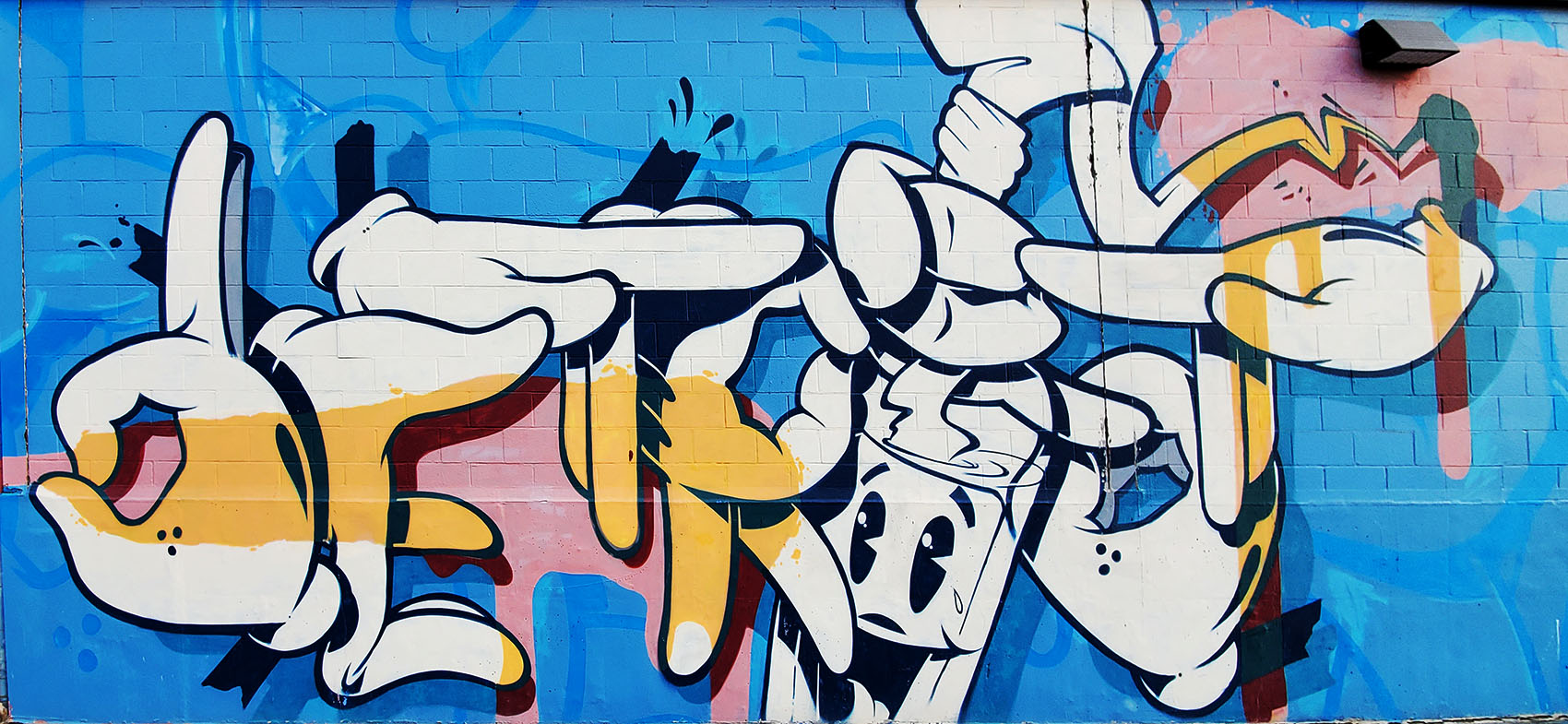 About this contest
JNT's Detroit 20/20 competition asked authors who worked or lived in the city to contribute creative flash nonfiction exploring Detroit as a narrative space in the year 2020. David Joez Villaverde was awarded first place for "M-10," and Carmen Malis King received second place for "Two Rivers."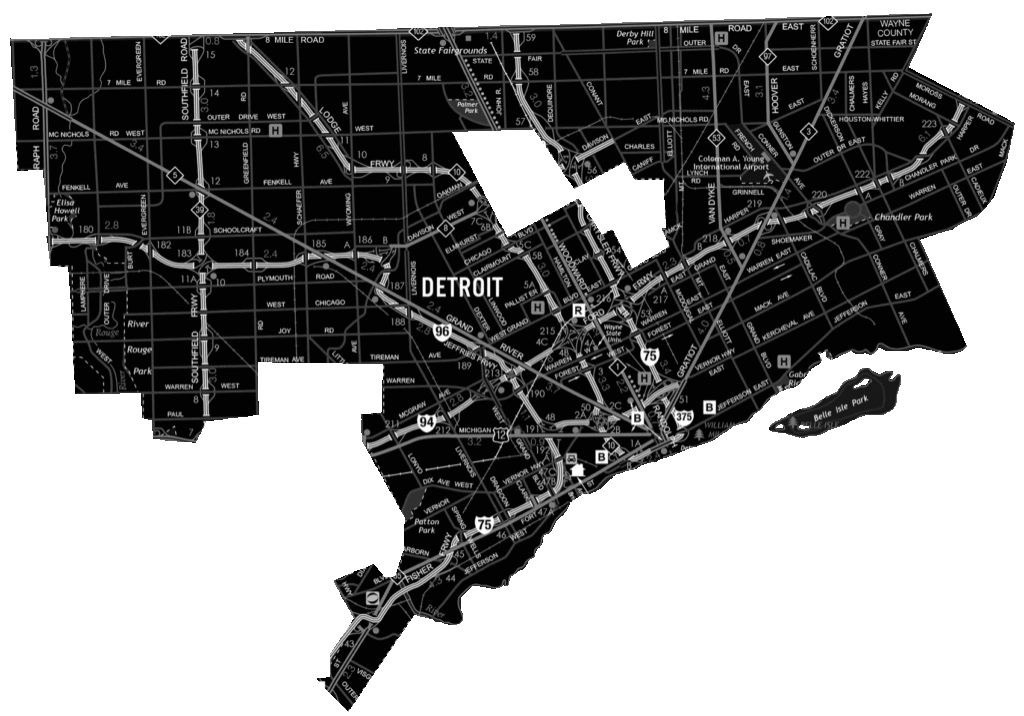 "Detroit as a Narrative Space"
The 2021 JNT Dialogue centered on the theme of Detroit, taking a look at how the city serves as a site that inspires narrative and gives rise to literary, artistic, and activist communities that shape its story. JNT was delighted to host a conversation with Detroit-based authors Desiree Cooper and kim d. hunter, discussing how their creative and activist work is shaped by their hometown.