JNT Dialogue: Speaker Series
The JNT Dialogue is JNT's annual speaker series. Each year, the JNT Dialogue invites keynote speakers to present on topics at the forefront of discourse about narrative theory. Previous Dialogue topics include "Detroit as a Narrative Space," "Environmental Futures," and "'Stand Whose Ground?' Indigeneity, Migrancy and Sovereignty."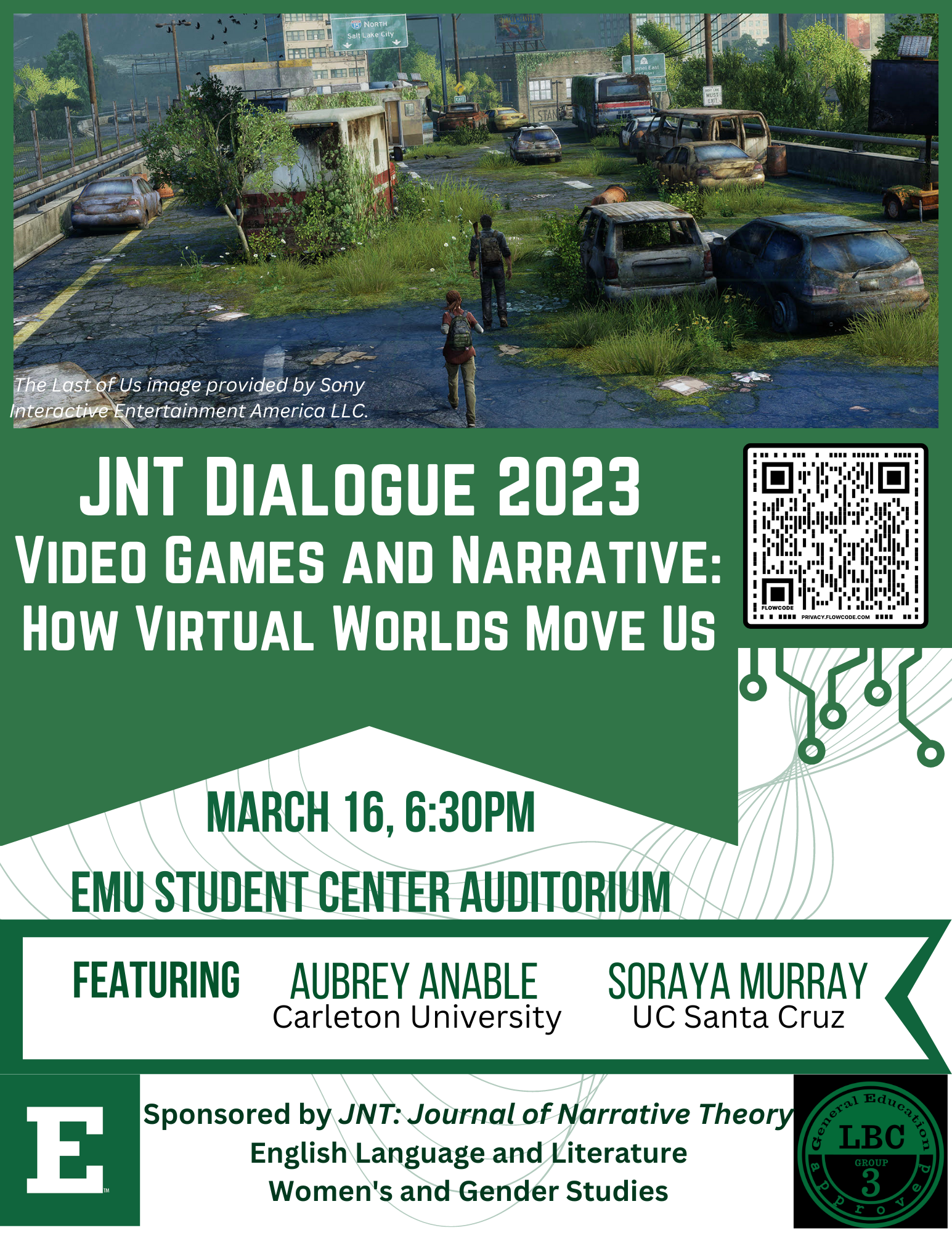 Video Games and Narrative: How Virtual Worlds Move Us
Despite imagining complex virtual worlds that inspire a range of player identifications and affects, video games often continue to be analyzed as computational rather than narrative artifacts. As narratives, video games offer playable representations of our cultures, where we encounter real world fears, conflicts, and dreams in imaginary landscapes. Video games move us, as we move through them: they enable new relationships, structures of feeling, and political meanings. Join us for a conversation about the political and affective significance of dwelling in such virtual spaces with video game scholars Aubrey Anable and Soraya Murray. Taking on normative assumptions about video games and play cultures, the speakers will also discuss how they can be reclaimed for feminist and queer futures.
Aubrey Anable is a scholar of visual culture and Associate Professor of Film Studies at Carleton University in Ottawa, Canada. Her research examines digital media aesthetics, video games, and virtual reality through the lenses of feminist and queer theory. She is the author of Playing with Feelings: Video Games and Affect (University of Minnesota Press, 2018) and co-editor of A Concise Companion to Visual Culture (Wiley-Blackwell, 2021). Her articles have appeared in the journals Feminist Media Histories, ASAP/Journal, Afterimage, Television & New Media, and Ada. 
Soraya Murray is Associate Professor in the Film & Digital Media Department at the University of California, Santa Cruz. She is an interdisciplinary scholar of visual culture, with particular interest in contemporary art, film and video games. Her book On Video Games: The Visual Politics of Race, Gender and Space (IB Tauris, 2018) analyzes post-9/11 video games to show how they are deeply entangled with American ideological positions and contemporary political, cultural and economic conflicts. Her articles have appeared in European Journal of American Studies, PAJ: A Journal of Performance and Art, Art Journal, Film Quarterly, and a number of collections.
This event is co-sponsored by the Departments of English Language and Literature and Women's and Gender Studies
"Detroit as a Narrative Space"
The 2021 JNT Dialogue centered on the theme of Detroit, taking a look at how the city serves as a site that inspires narrative and gives rise to literary, artistic, and activist communities that shape its story. JNT was delighted to host a conversation with Detroit-based authors Desiree Cooper and kim d. hunter, discussing how their creative and activist work is shaped by their hometown.
The Dialogue was in partnership with JNT's Detroit 20/20 competition, which asked authors who lived or worked in the city to contribute flash nonfiction exploring Detroit as a narrative space in the year 2020.
Past Dialogues and Topics
2022: "Resonance and Ruin: Narrative, Race and Cognition" with Dr. Sue J. Kim and Dr. aliyyah abdur-rahman
2021: "Detroit as a Narrative Space" with Detroit-based authors Desiree Cooper and kim d. hunter. Watch the video here, or check out the Detroit 20/20 contest submissions here
2020: "Neglected Histories, New Odysseys, and the Cultural Work of Fantasy" with Saladin Ahmed and Ausma Zehanat Khan
2019: "'Stand Whose Ground?' Indigeneity, Migrancy, and Sovereignty" with Jodi A. Byrd and Shailja Patel
2018: "Environmental Futures" with Ursula Heise and Rob Nixon
2017: "Temporalities of Crisis and Condition" with Lisa Lowe and Mimi Thi Nguyen
2016: Homi K. Bhabha and Claudia Rankine (video below or here)
2015: "After Post-Structuralism?" with Nancy Armstrong and Jonathon Elmer
2014: "Thinking Bodies" with Laura Otis and Jay Clayton
2013: "The Queer Commons" with José Esteban Muñoz and Samuel Ray Delany, Jr. (video below or here)
2012: "Nonhumans: Ecology, Ethics, Objects" with Jeffrey J. Cohen and Timothy Morton
2011: "Failing to be Subjects: On Queerness and Negativity" with Lauren Berlant and Jack Judith Halberstam
2010: "Globalization Now: Flows and Limits" with Crystal Bartolovich and Paul Smith